Text / Joanna Huang、Yuchi、赤丸、Wen Photo / Wen
You feel like diving in the winter but you think Kenting is too far and you can't go to GreenIsland because you suffer from seasickness?

No problem! There is a turtle island, called Xiao Liuqiu, which has a constant warm temperature, suitable for free diving, all year round. If you take the ferry from DonggangHarbor, it will only take you 20 minutes to reach the island!

────
Xiao Liuqiu used to be called Liuqiu Island and it lays south-west of Donggang Township in Pingtung County. It is Taiwan's only large coral island, and the coral reefs are mainly formed by the erosion of the sea along the coast.
Historically speaking the island was also known as Lambay or Lamey Island. In 1622, a Dutch ship was wrecked on the coral reefs of the island, back then known to the Dutch as Lamey or Lamay island.
The entire crew was killed by the native inhabitants. There was a desire at the very highest levels of the Dutch East India Company not to let the killings go unpunished, with Governor-General of the Dutch East Indies ordering to punish and exterminate the people who had committed those atrocities, thus leading to the Lamay Massacre.
Subsequent developments led to the complete abolition of the aboriginal people on the island, which became a forbidden and restricted area during the reign of Emperor Kangxi, to the point that there were only two or three thousand inhabitants recorded during the Guangxu period.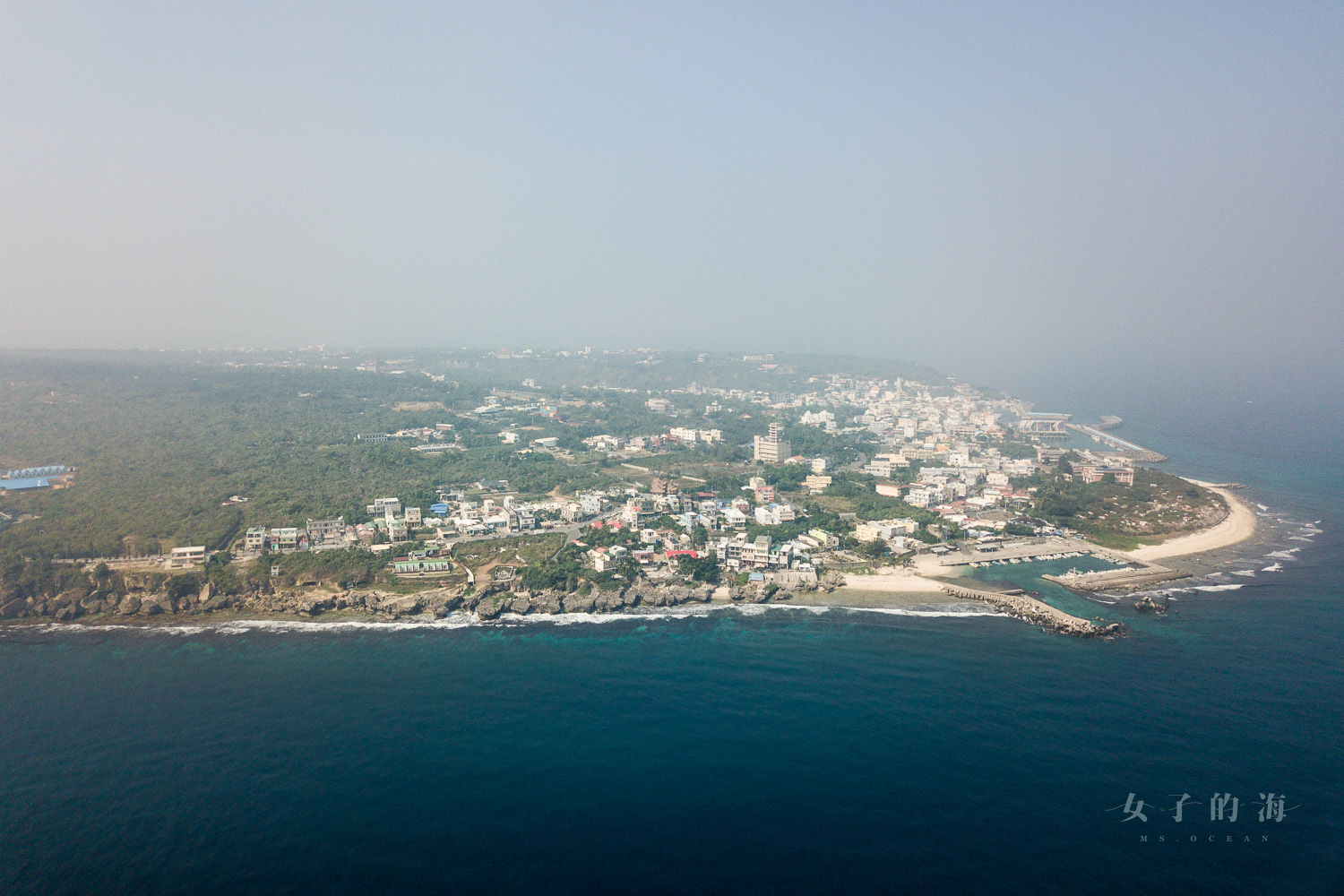 Xiao Liuqiu is the only island in Taiwan that will not block traffic due to monsoon waves. It is affected by the Kuroshio tributary, causing the water temperature in summer to be around 29 degrees and even in winter it is usually above 23 degrees.
The island has many free diving spots which are always open but during a typhoon. Many people say that the best time to free dive in the island is wintertime, because there are no typhoons, it is not the rainy season, and the visibility at the bottom of the water is quite good.
Turtles are a main attraction, and they can be found practically anywhere. After you dive in the water, you can start counting how many turtles you see.
Xiao Liuqiu has become a main tourist spot for freediving thanks to its sea conditions and to the convenient traffic. It was the first island to have a regular diving coach and thanks to the promotion on social media, for many foreign tourists it is indeed a synonym of freediving.
∆Freediving spots
Following are some of the main freediving spots for your reference. To actually make your plan, it is important to take into consideration the sea and the weather conditions.
FlowerVase Rock is the most famous and conspicuous landmark on the island, and one of the hot spots for snorkeling. There are many tropical fish, and turtles; further on the side there are 10-meter deep coral reefs to explore.
However, sightseeing boats sail nearby, therefore it is not a suitable spot for people who want to free dive further out into the sea. It is a nice place for children and parents who want to stay closer to the shore.
Difficulty:★☆☆☆☆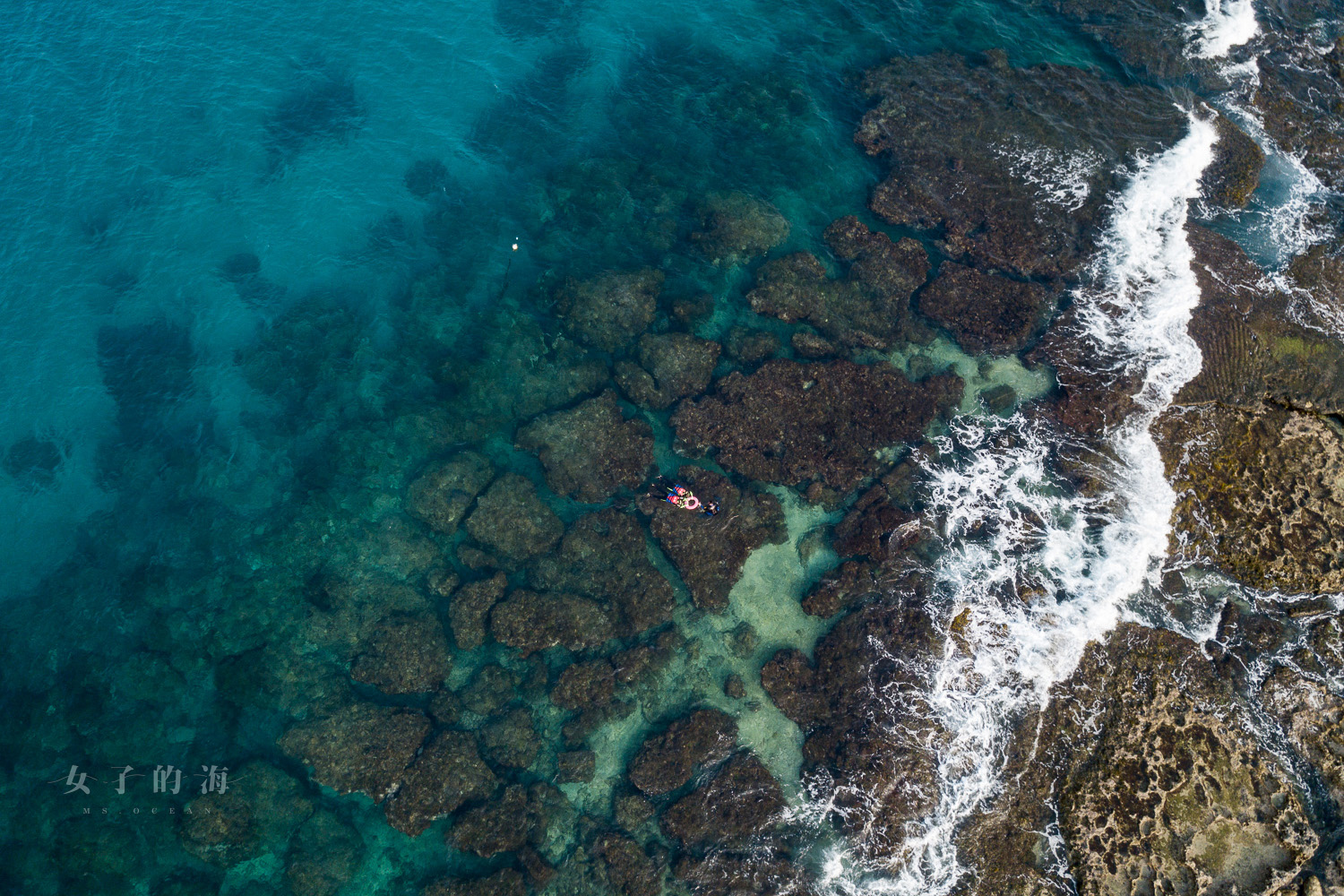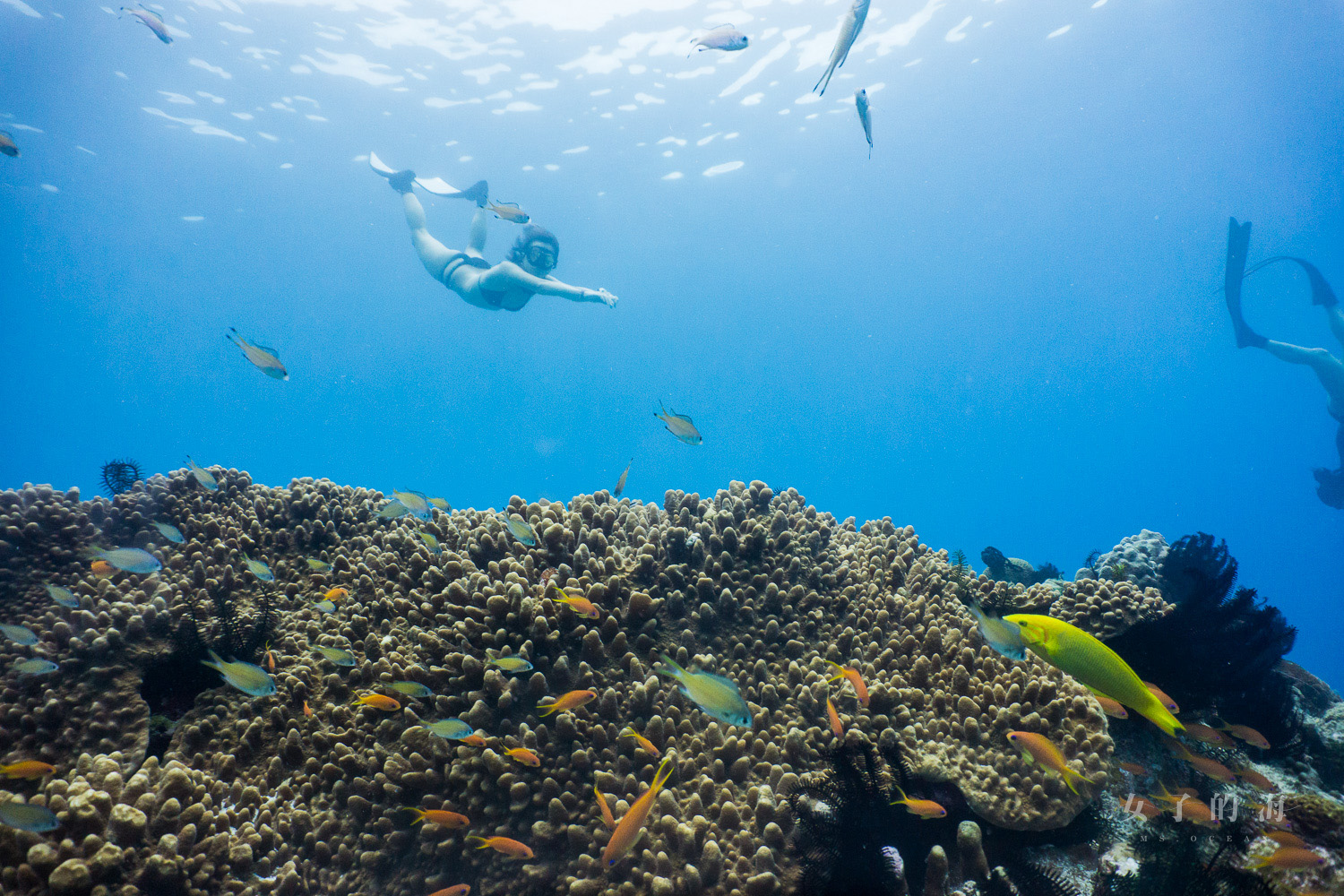 BeautyCave is the spot with the highest amount of sea turtles. When diving pay attention to the rocks and the waves. The water can be very clear; sometimes it is possible to have a 20-meter visibility.
Difficulty:★☆☆☆☆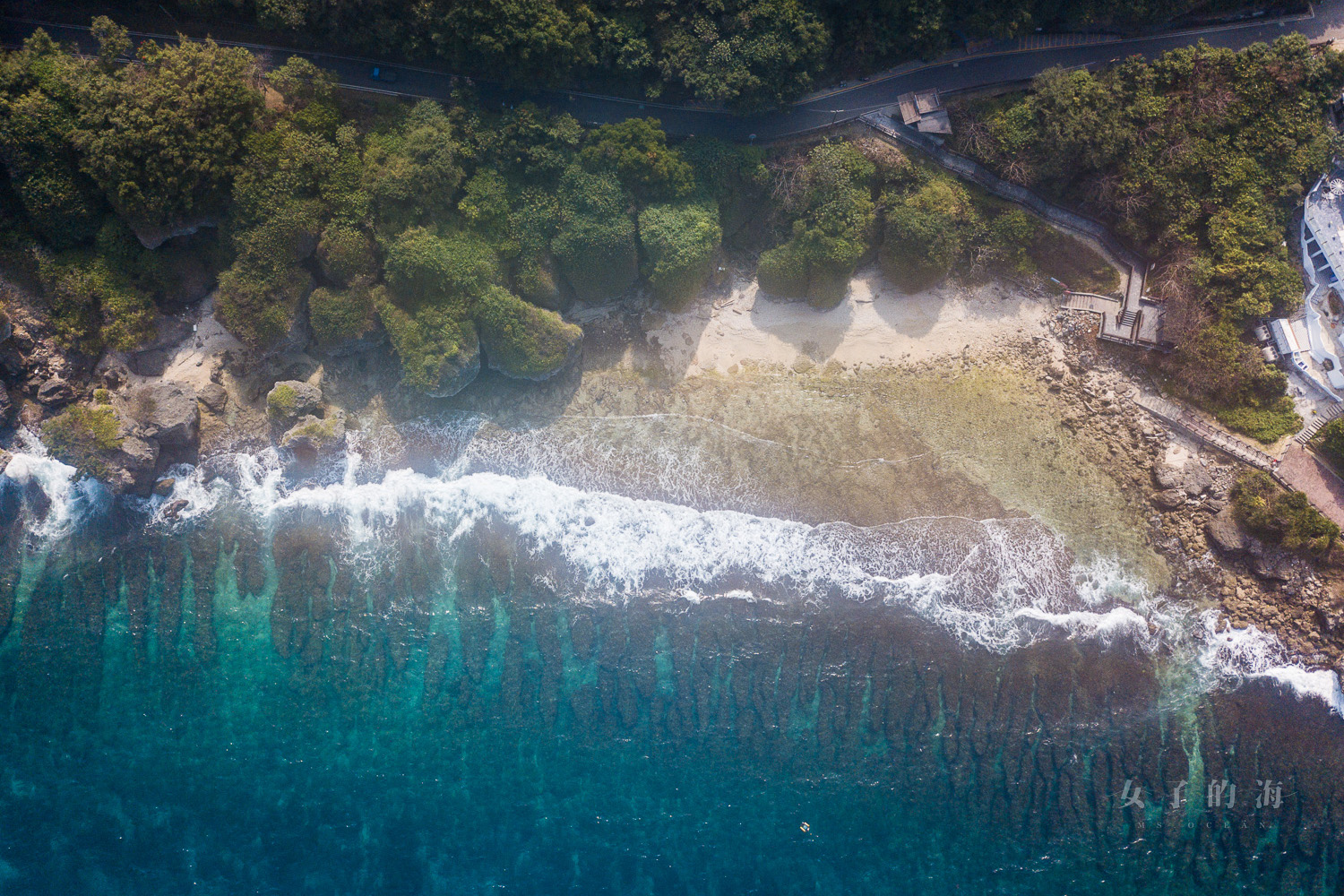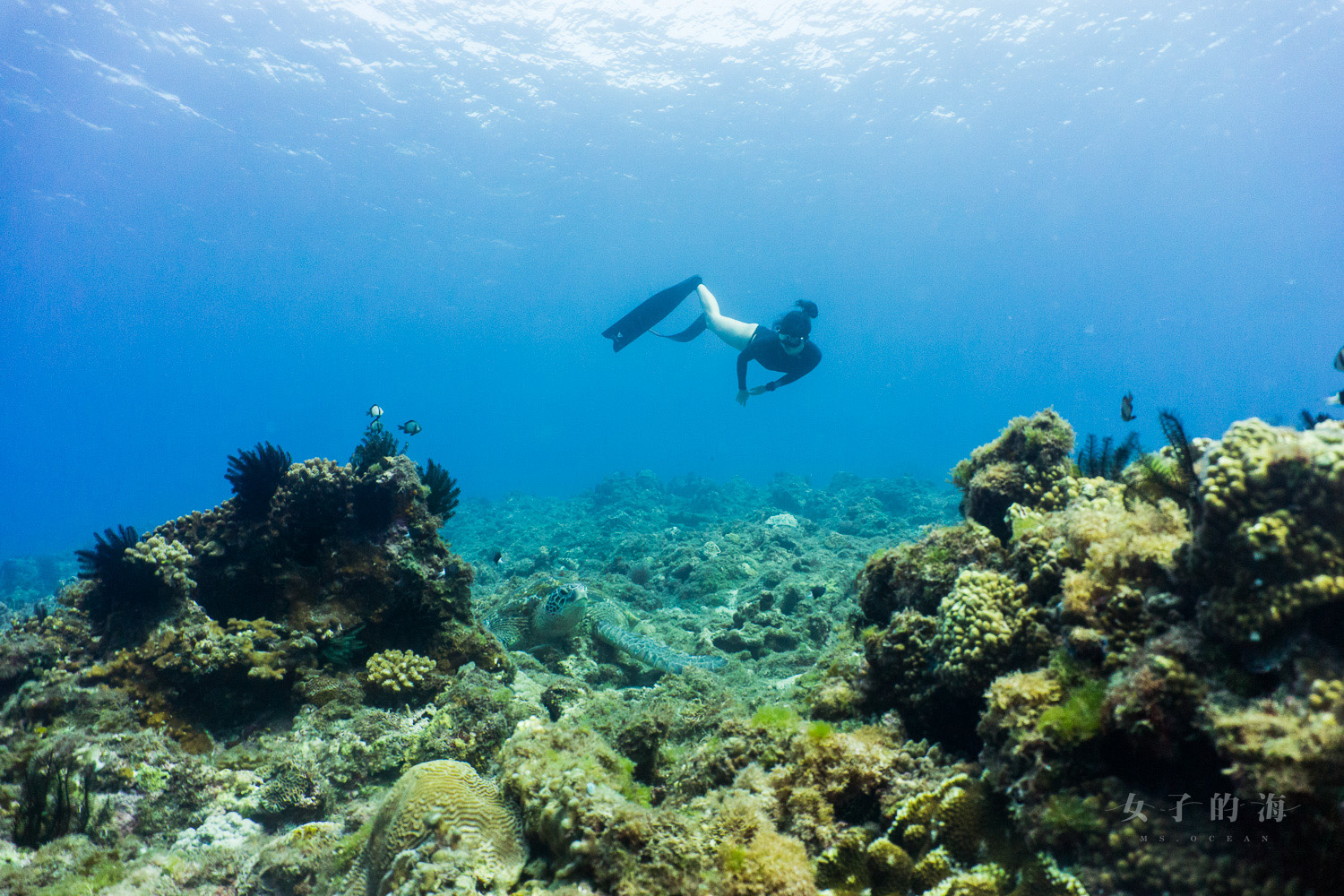 On the left-hand side of the Beauty Cave, from the road it is possible to see net-cage fishing culture of cobias. The water is 25 to 35-meter deep and there is sand at the bottom. Last year there was a school of blacktip sharks living here for a period of time.
Difficulty:★★☆☆☆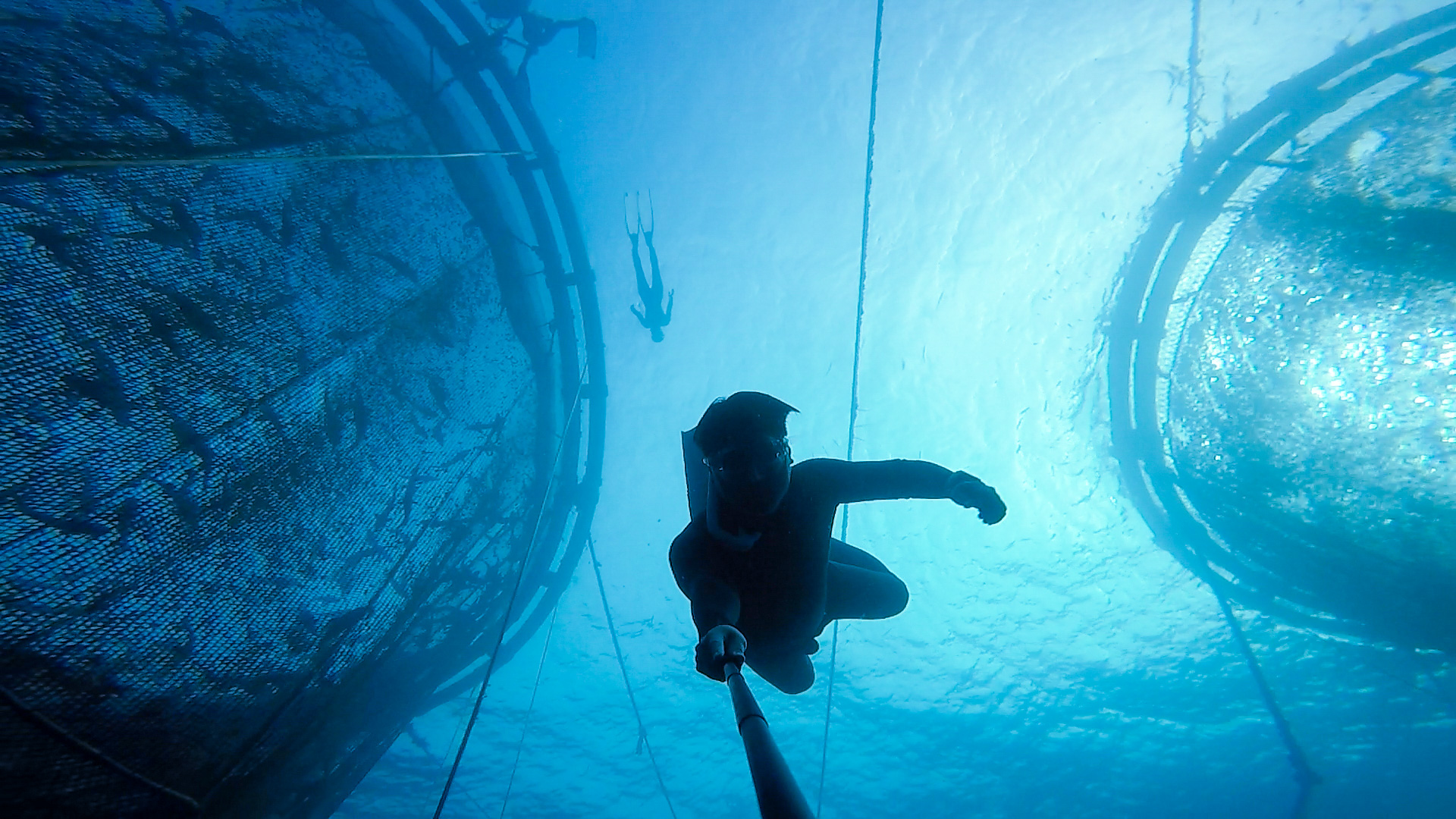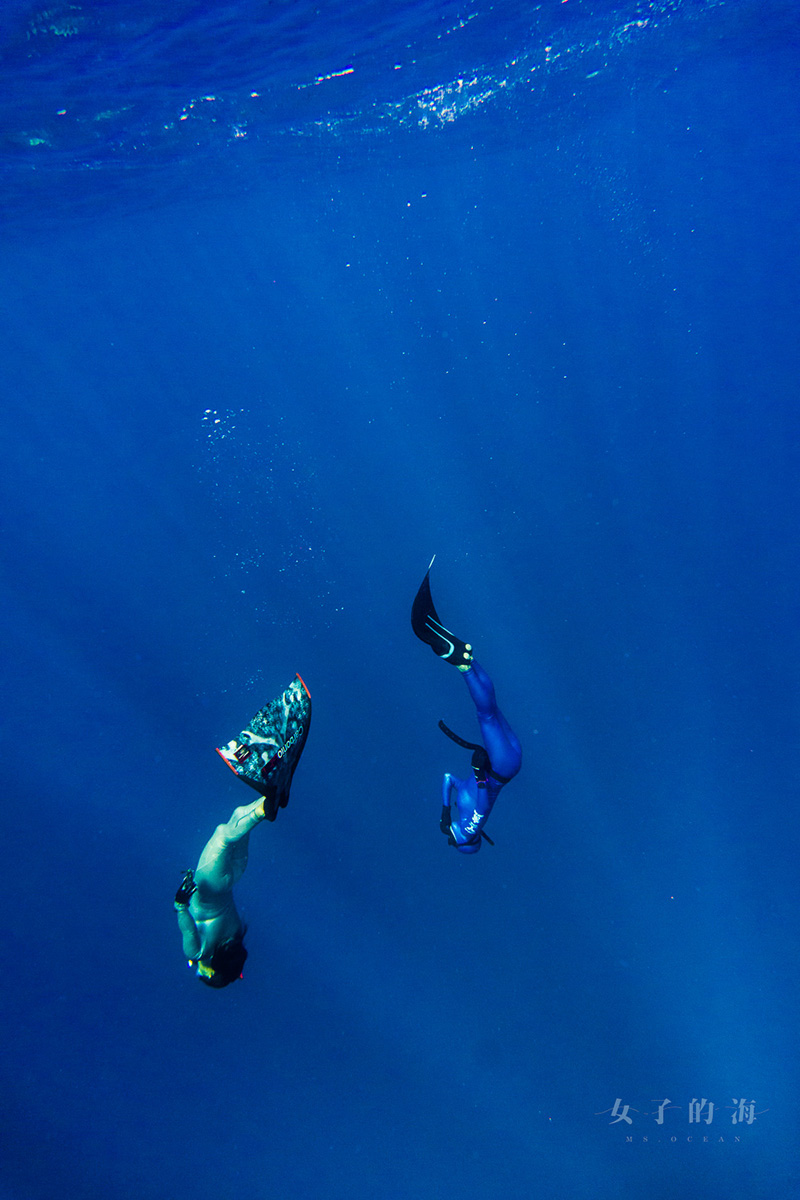 Near SanFuFish Harbor you can see a wreck at a depth of 18 meters. The boat top is at a distance of 13 meters from the sea surface. This ship has become quite notorious in the last few years, however currently there are only two diving spots to see it.
To reach the first one, one must swim across the harbor. To reach the second, one must pass an ecological corridor full of sea urchins. Moreover, the shipwreck location lacks positioning reference, and it is also easily hit by ocean currents, therefore unless accompanied by local people, it is not recommended to go there by yourself.
Difficulty:★★★☆☆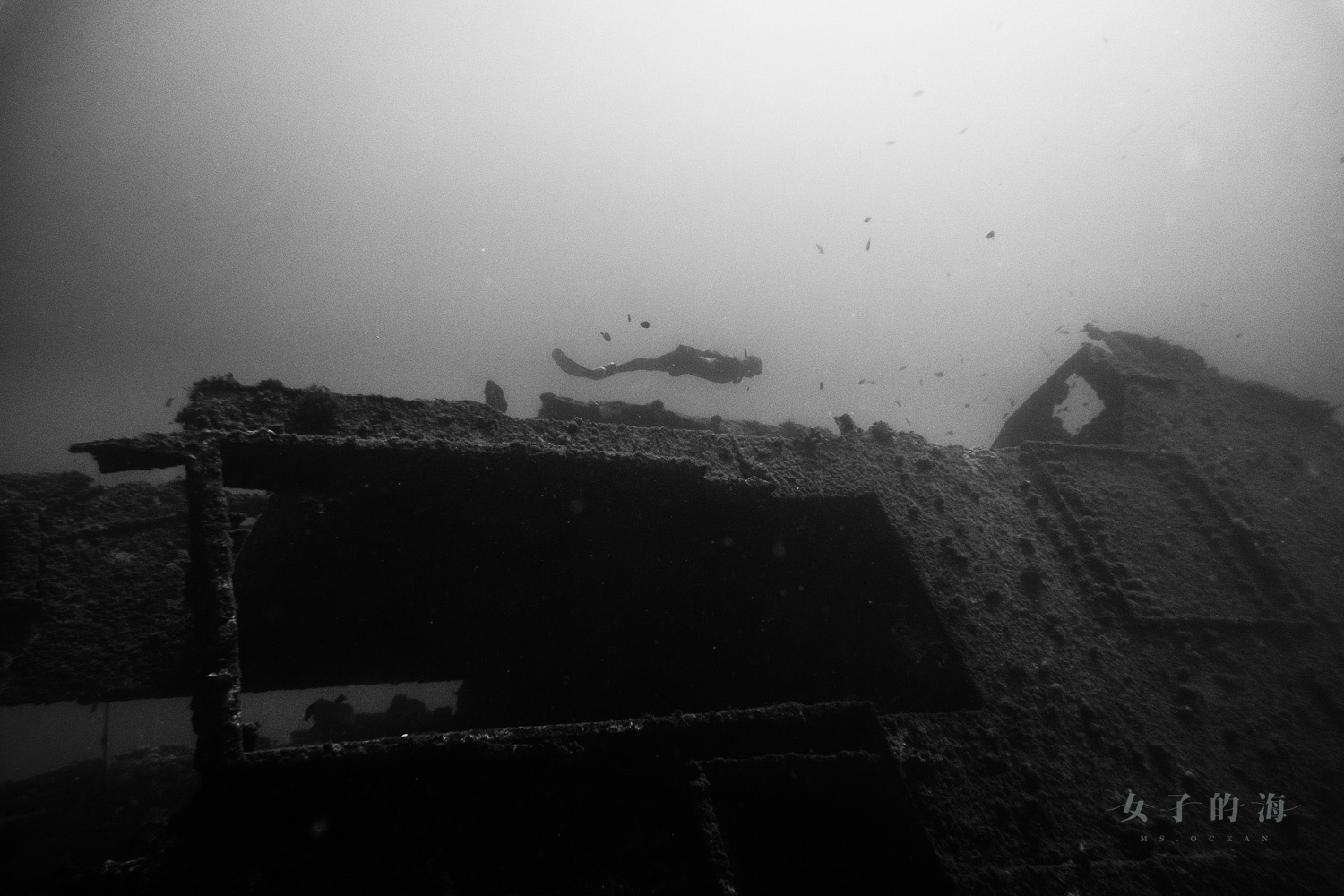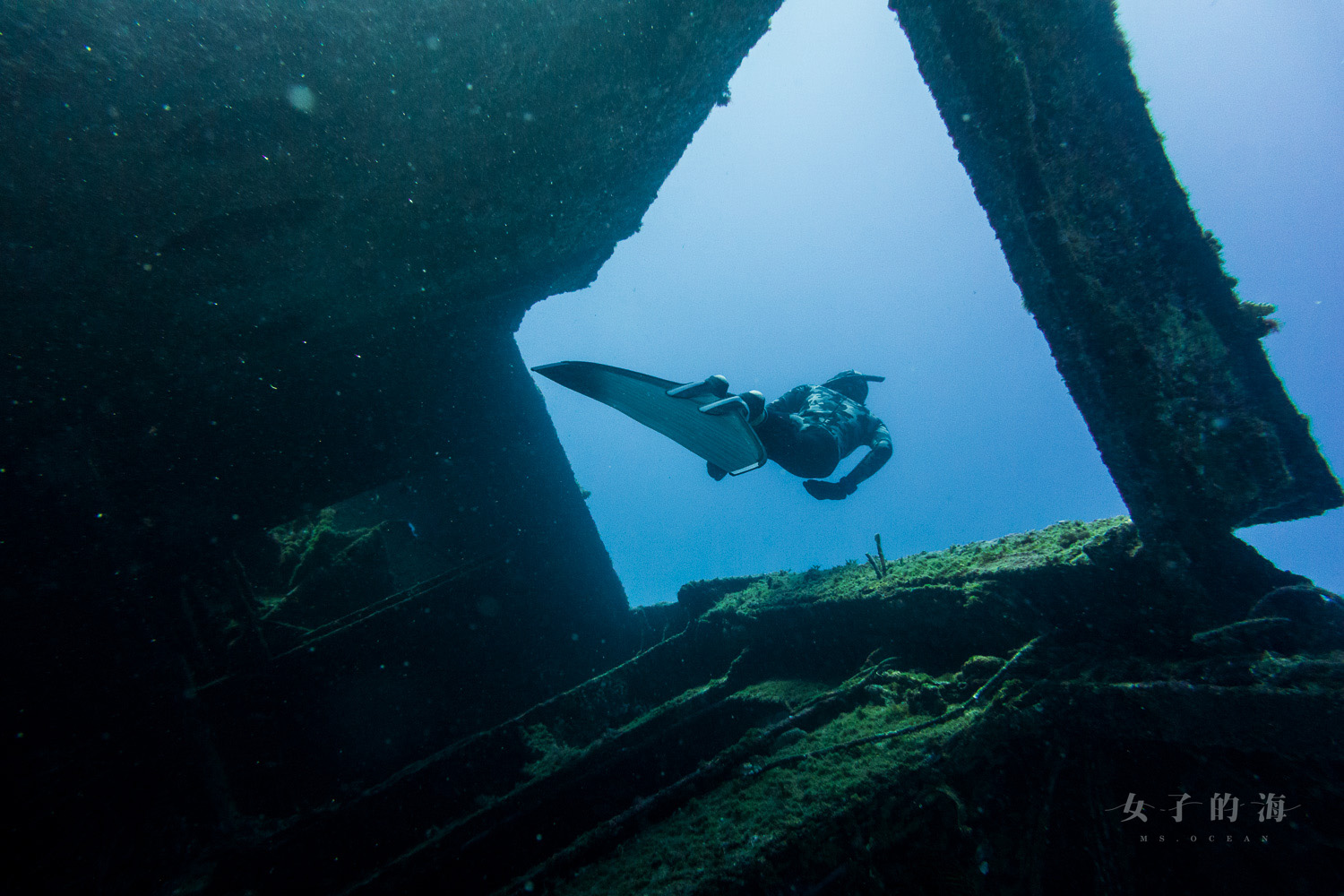 Haizi Kou is located in the southwestern part of the island. It is one of the few diving spots characterized by the fact that the coast is still being eroded by the sea and its configuration is changing little by little.
Also the Haizi Kou fishing port has been used less frequently, however it is a violation of the law to swim out into the ocean from inside the port, because at times there are still boats and ships getting in and out. When the sea water is calm, you can get down into the water from the reef rocks on the left-hand side of the port.
Difficulty:★★☆☆☆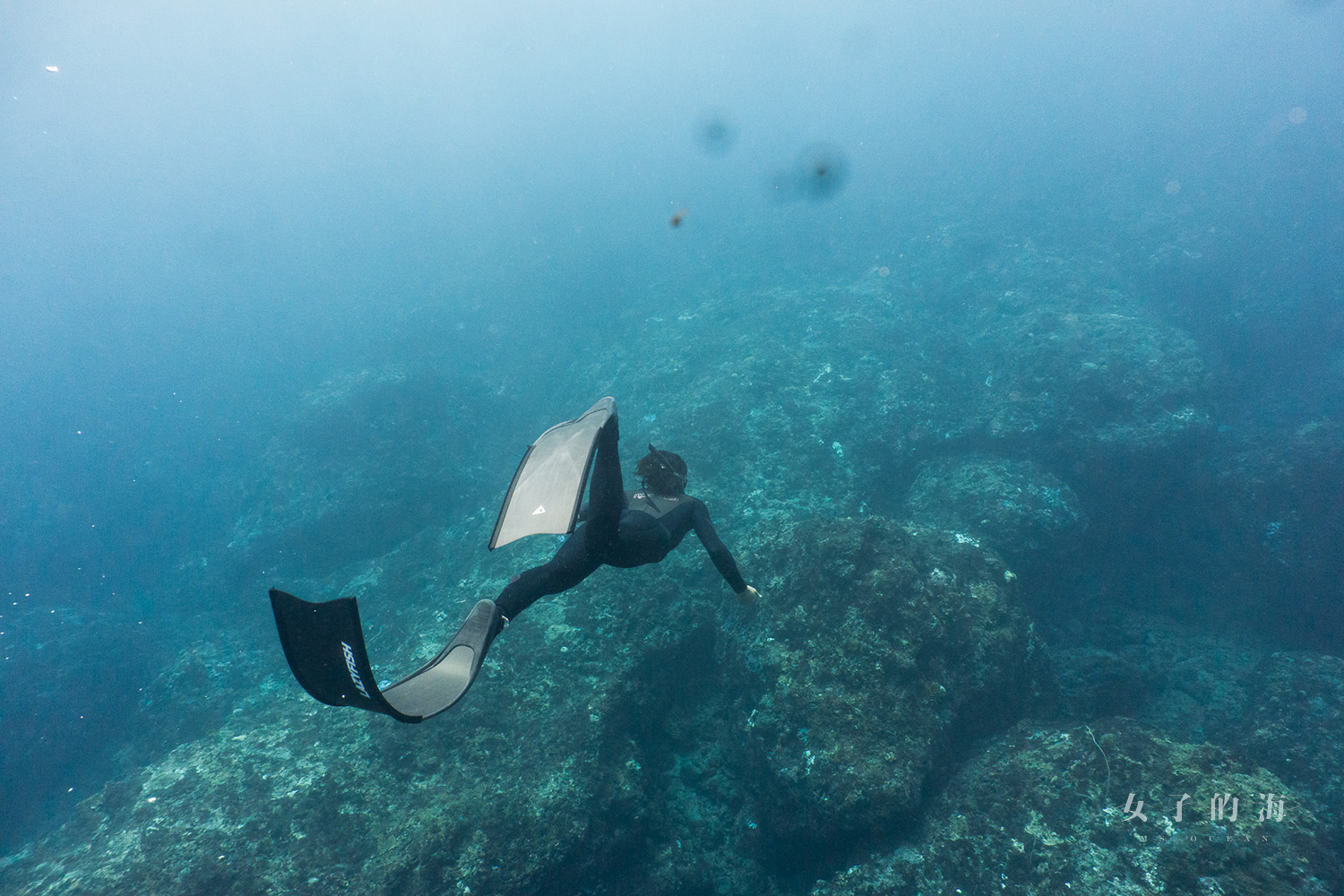 Houshi Fringing Reef is situated in the south and it's a good spot to avoid the waves which can be found in the north during wintertime. It is a good spot to get in and out of the water for children and adults alike.
The marine life is not that exciting here, however at sunset it is one of the most romantic places to enjoy the beautiful view.
Difficulty:★☆☆☆☆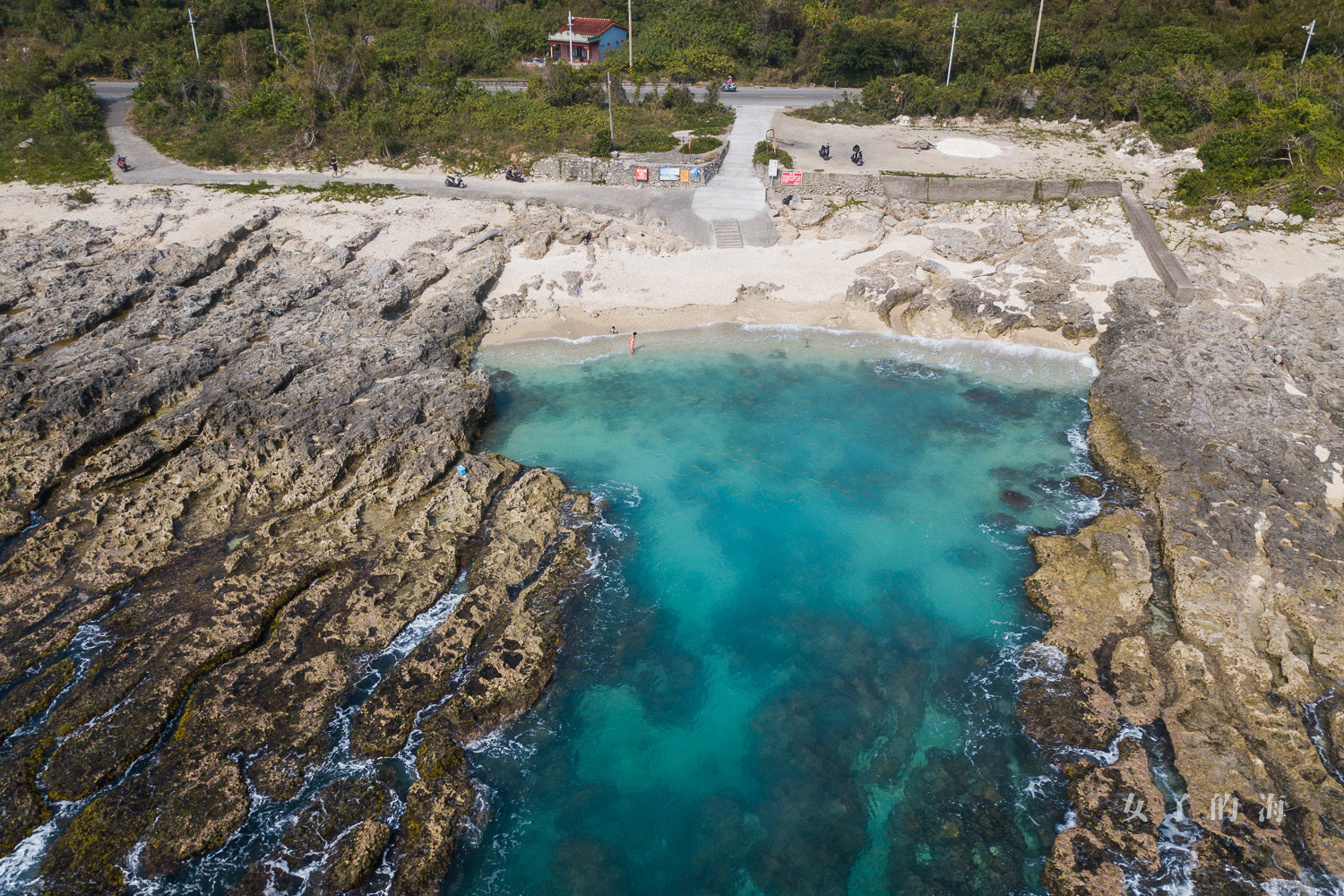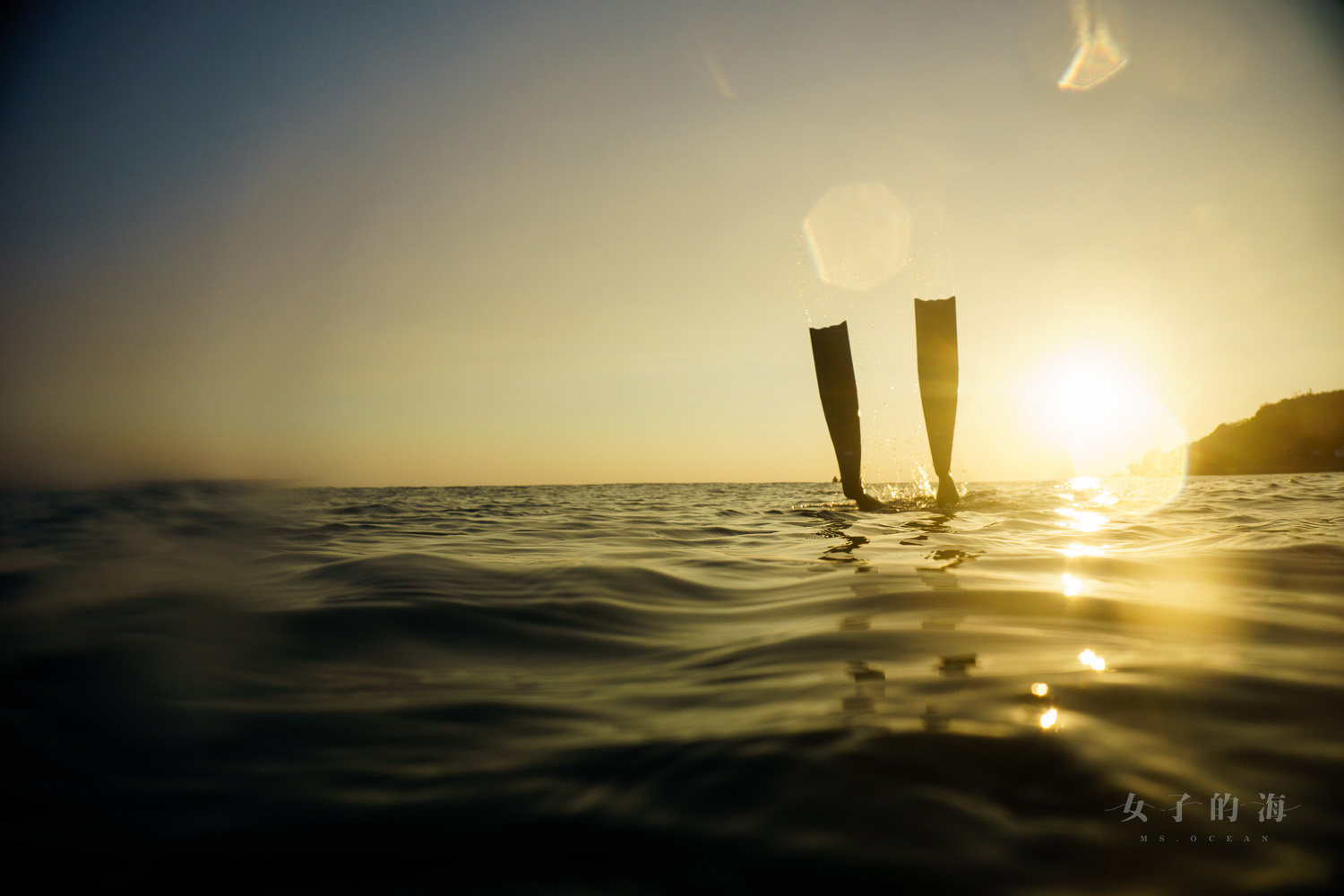 In the southwest side of DafuFishPort there is a small abandoned port with a small beach and it is very easy to get into the water from here. Also, it is rarer to encounter strong flows here.
It is the perfect spot for a free diving class. Also, if you adventure further out into the sea, you can enjoy a similar view to that of Houshi Fringing Reef but in an even more calm and serene environment.
Difficulty:★☆☆☆☆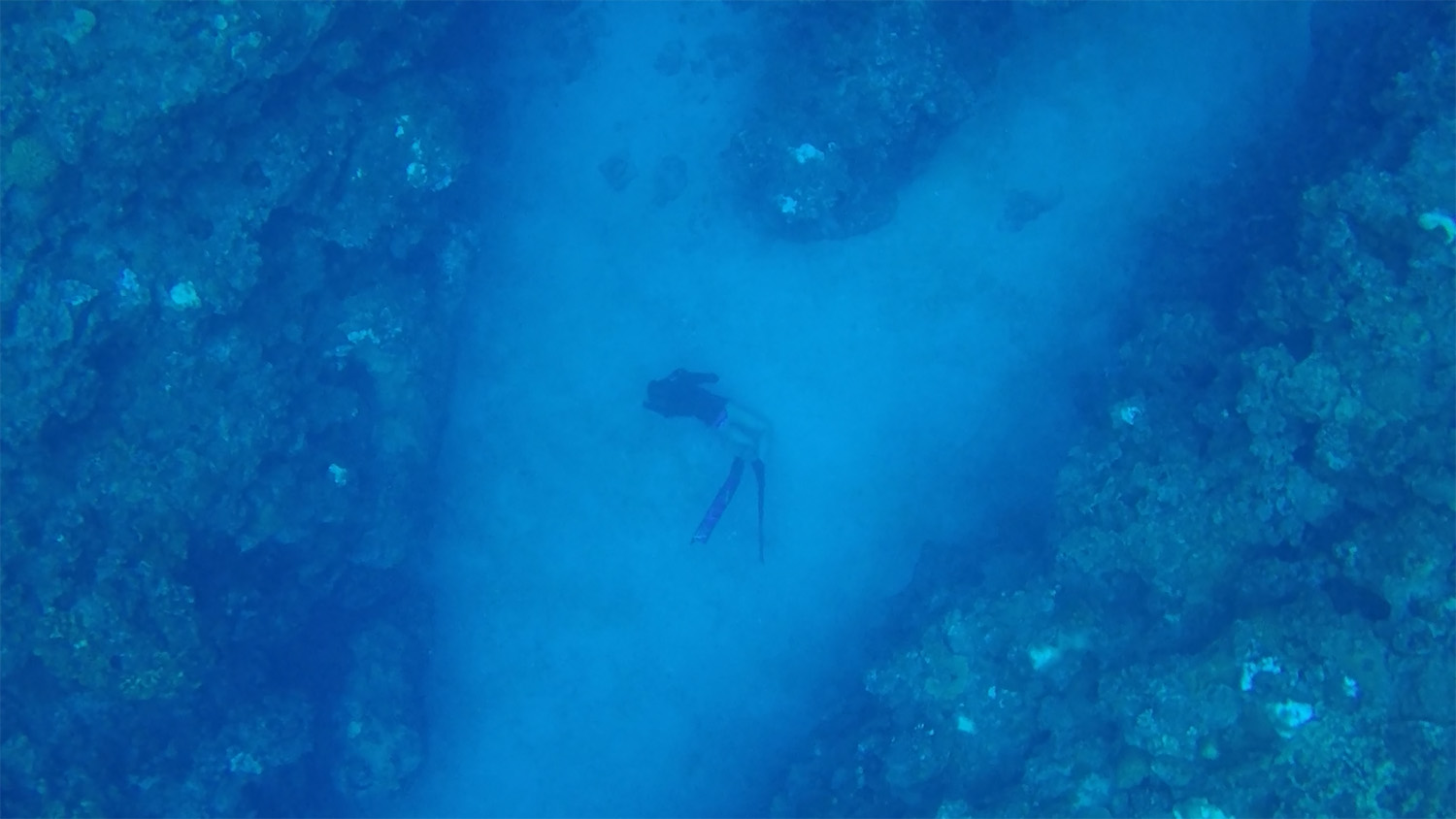 If you pick the wrong spot to get in or out of the water from the tidal zone next to the LobsterCave, you may find yourself surrounded by sea urchins.
There are not as many free divers here; however there are quite a few scuba divers. Nearby there is a 32-meter deep iron reef. There is some distance between the two sides of the reef; therefore it is easy to encounter strong flows. Unless you are very familiar with the area, it is advisable not to dive in this spot.
Difficulty:★★★☆☆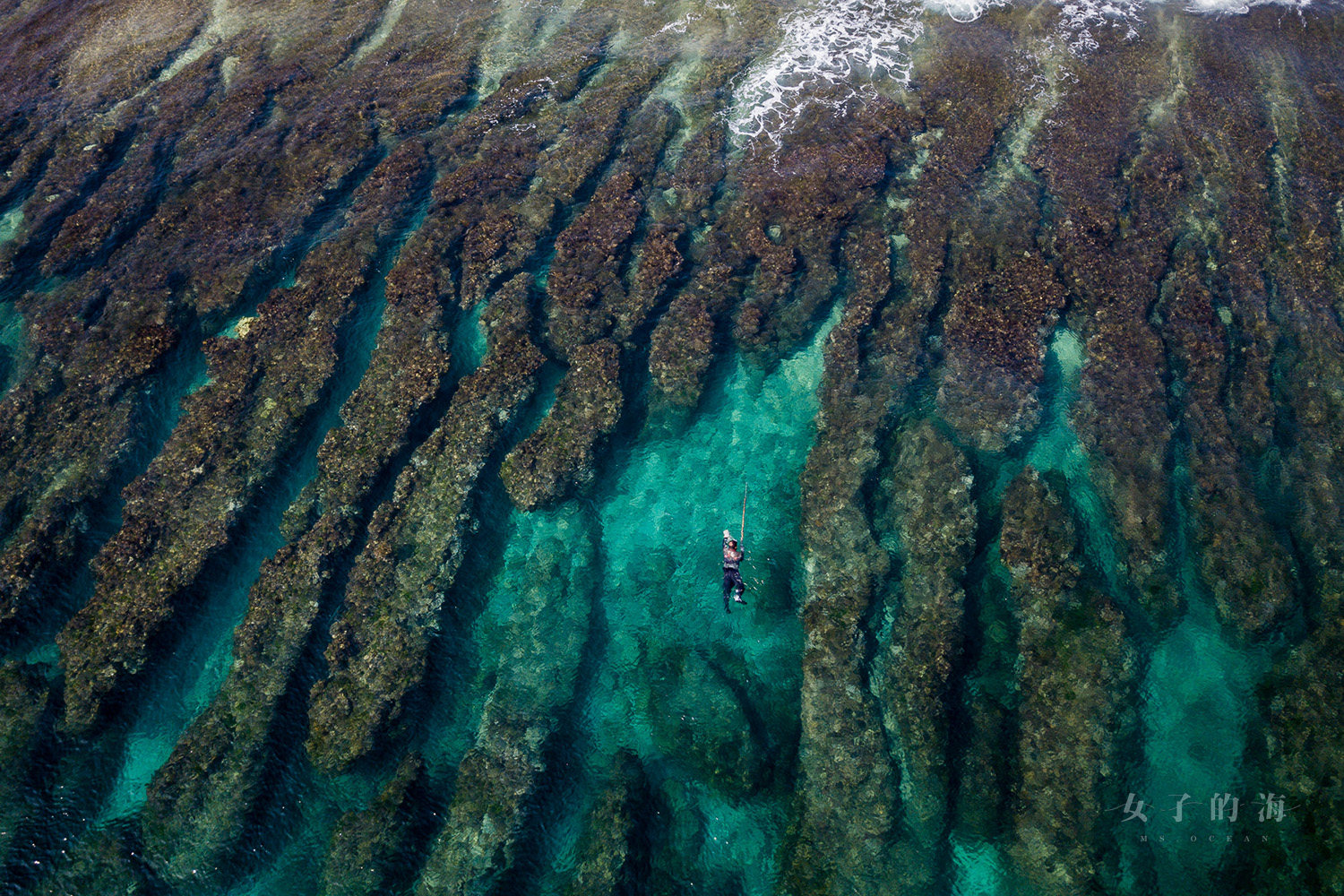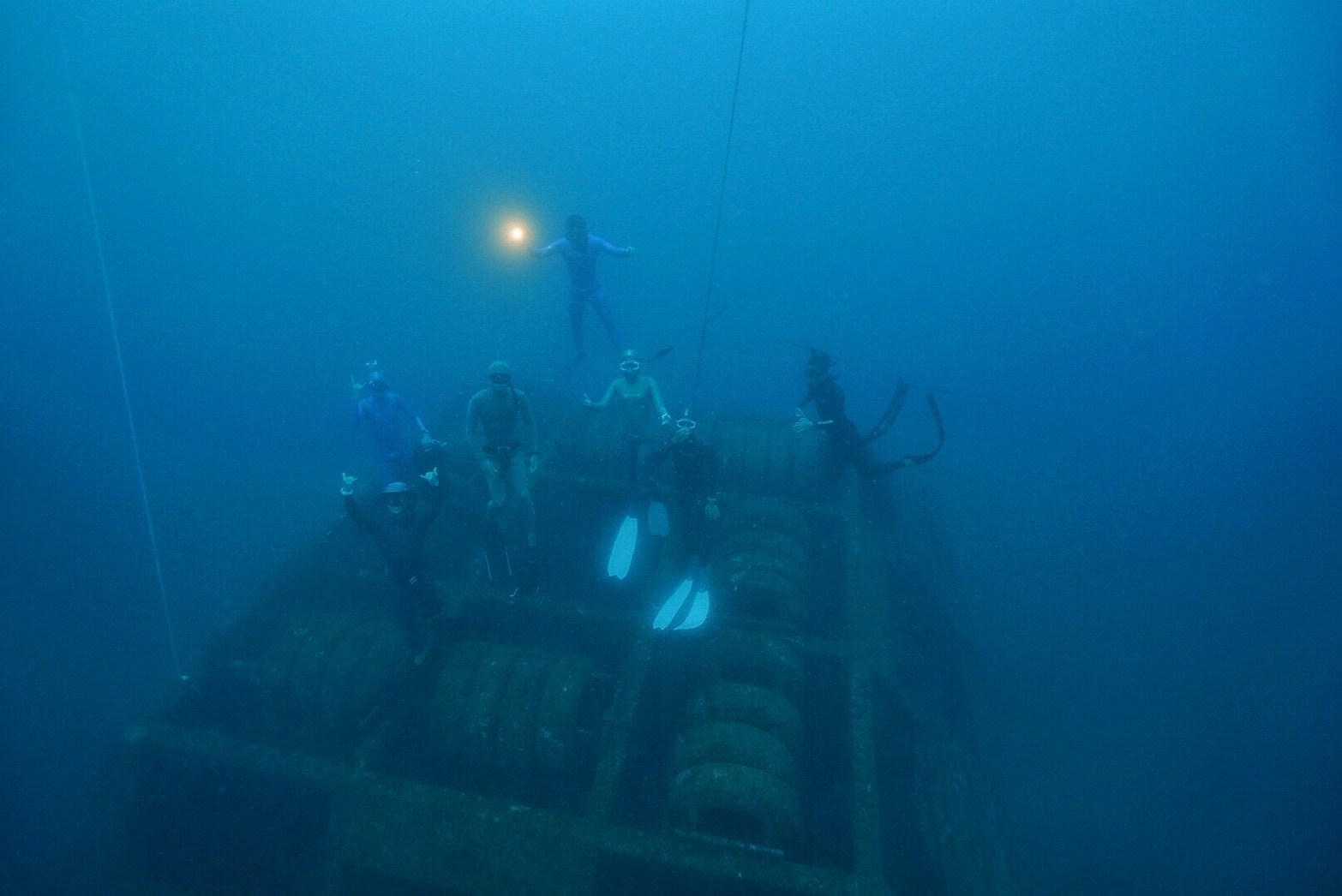 The best beach in liu chou to enjoy your beers with friends. there's one diving spot wreck 20 meters away from the coastline, and it's usually for scuba diving only.
Difficulty:★☆☆☆☆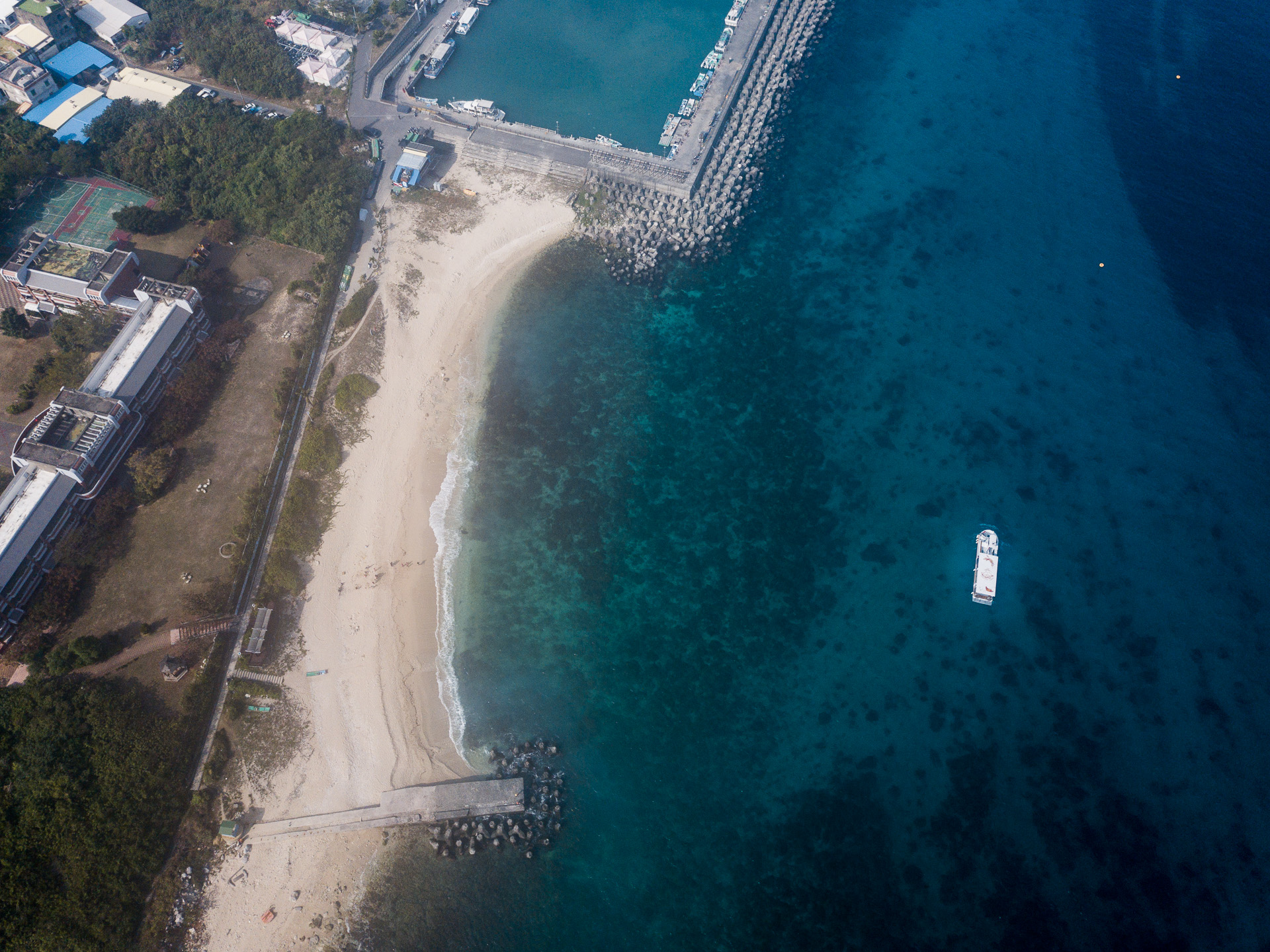 It could be defined as a diving site in incognito. If you dive in the water around BeautyCave, you follow the current and you can get ashore by Vase Rock.
There are only a few tourists here and one of the most spectacular marine landscapes of the island. In the past, forty turtles have been spotted here at one time. Remember to be accompanied by local people and make sure that the currents are suitable for diving.
You can park your scooter on the shore at Vase Rock so that you don't have to walk all the way back to Beauty Cave.
Difficulty:★★☆☆☆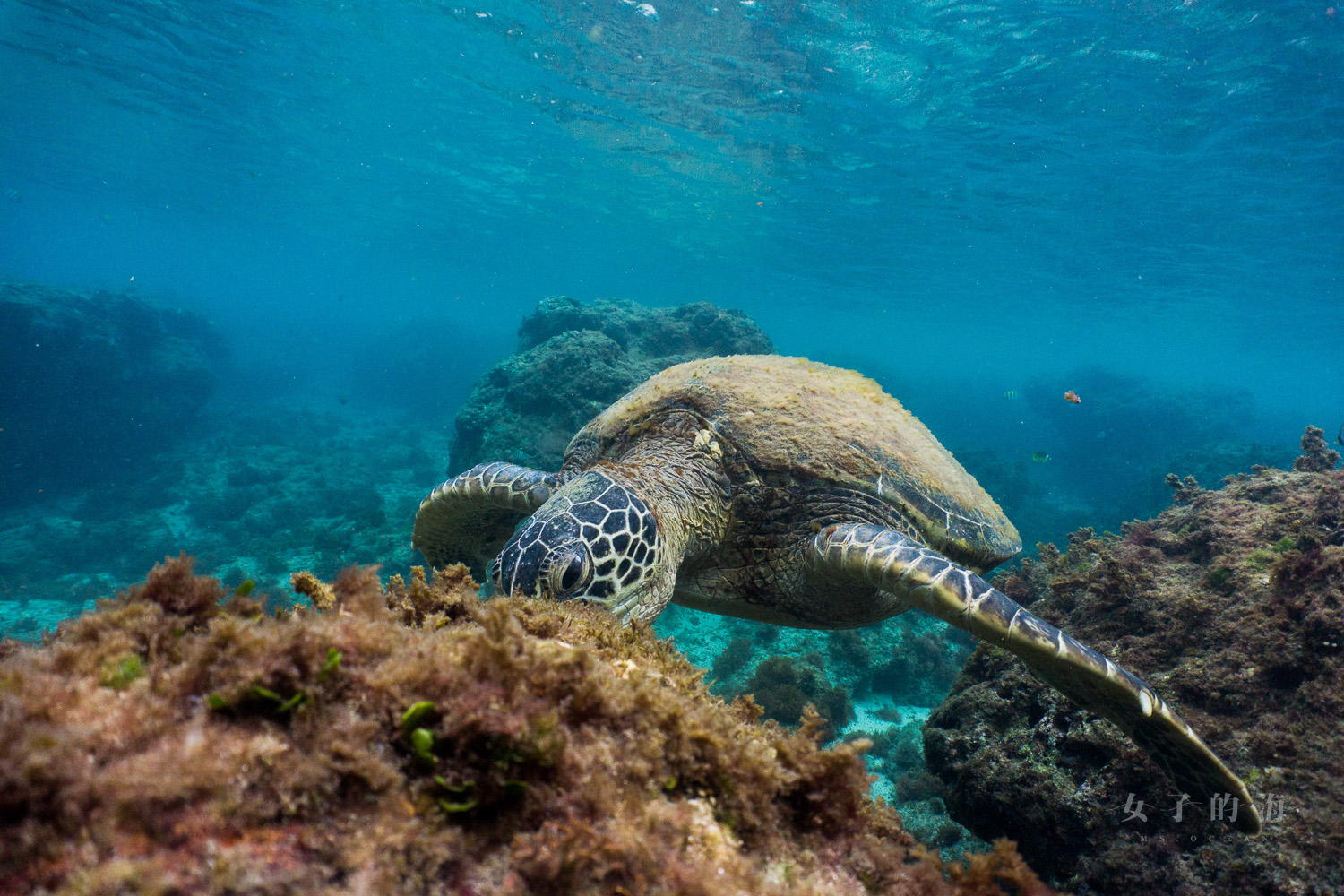 ∆Food information
Little Tadpole Cheese Rolls
Only by reservation. You can call in to make a reservation at 10 o'clock in the morning. It is hard to get through with the line and often once the communication is finally established, the cheese rolls are already sold out.
TEL:0976181739
Address:屏東縣琉球鄉三民路275號
Open time:14:00-
Many stir-fry stores where you can have seafood, Korean-style beef noodles, and beef tripe soup. The broth, whose secret recipe has been passed down generation from generation, is quite good, especially if you like pepper.
Address:屏東縣琉球鄉大福村中正路371號
Open time:10:00-14:00 / 17:00-21:00
Good cuisine based on goat meat, which is the main ingredient. Food at a bargain price even for two people. Their stir-fried chicken with fermented bean curd is a must.
Address:屏東縣琉球鄉仁愛路104之8號
Open time:11:00-14:00 / 17:00-19:30
Hung Mama's Breakfast Store
Many different specialties sold here, unlike traditional breakfast stores. Fried food and the renowned Black Sugar Pau are local traditional delicacies.
Address:屏東縣琉球鄉和平路28-5號
Open time:AM 3:30 – AM 10:30
Named after a place on Xiao Liuqiu called Xiangsi Pu, these noodles, as well as rice wrapped in leaves, and bitter melon, are all very famous. The bitter melon soup along with tender chicken are very pleasant to warm yourself up in wintertime and to relieve summer heat in summertime. If you like traditional Taiwanese noodles, you are going to love this!
Address:屏東縣琉球鄉上杉路31巷7號
Open time:08:10 – 14:00
Japanese Restaurant Little Island
This restaurant opened in 2017. It has a set menu but also some occasional special delicacies. According to the people who have eaten here, it is an unforgettable experience.
Address:屏東縣琉球鄉中山路61-25號
Open time:17:00 – 23:00
The best place to eat fast food on Xiao Liuqiu. In total there are seven set meals, and new additions from time to time.
Address: 屏東縣琉球鄉中山路61-25號
Open time:08:00 – 22:00
It's local guy's favorite fried chicken.
Address:屏東縣琉球鄉民生路30號
Open time:15:00開始
Address:屏東縣琉球鄉民生路(on the opposite of Hung Mama's Breakfast Store)
Tel:08-8611266
If you like beer, you cannot miss Xiao Liuqiu's own limited two varieties of beer, because you cannot buy them anywhere else. One is called Haigui and the other one Captain Beer.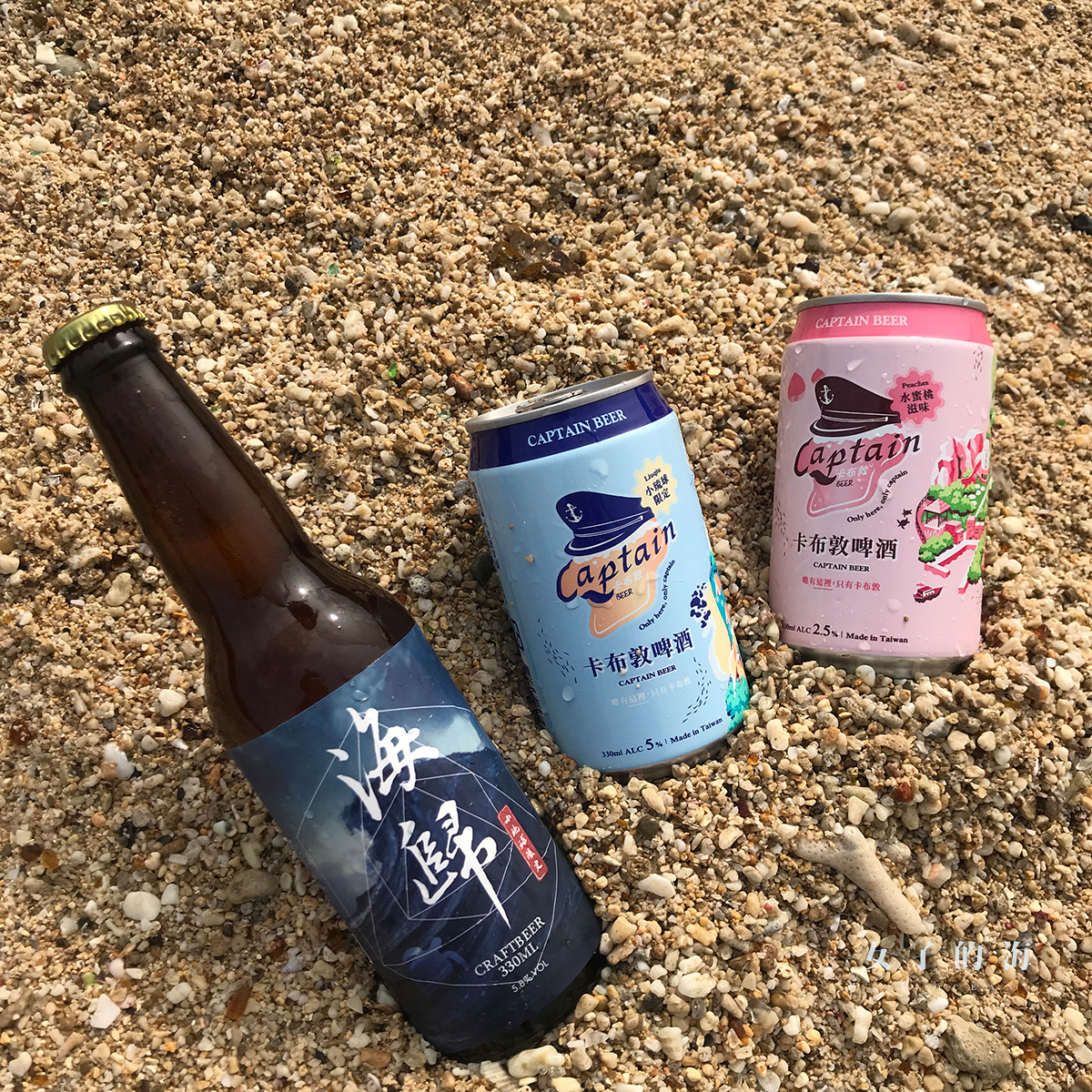 ∆Clothing
During the summer the weather is very hot and during the winter, unless there is a strong wind, the temperature is usually above 20 degrees. There is a big temperature difference between day and night; therefore we recommend to use the technique of layered clothing. As for diving attire, a 3 mm thick diving garment is enough for the winter. Summer is the bikini season. If you don't want to get tanned, we recommend dive skin rather than sun lock, because the ingredients in a sunscreen can harm coral reefs, or you can choose a marine environment-friendly sunscreen.
∆Accommodation
There are many legal B&Bs on the island, from rooms for backpackers to luxurious guesthouses. WacowTravel is the earliest website with all information concerning accommodation(https://liuchiu.wacowtravel.com.tw/). You can also visit the following websites for further information on accommodation: Booking.com, airbnb, Agoda.
∆Traffic
How to get to the ferry terminal in Donggang harbor?
A. From Kaohsiung train station
You can get to Donggang harbor with several different bus lines, including Gbus, Kuo Kuang, PTbus, Chung Nan Bus, or also by taxi.
Gbus:http://springrent.dzvhost.com/
Kuo Kuang:http://www.kingbus.com.tw/
PTbus:http://www.ptbus.com.tw/tak/shoetaklest.asp
Chung Nan Bus:http://www.taiwanbus.tw/
B. From Kaohsiung HSR Zuoying Station
Transfer to the train station or you can take the Tungliu Taxi directly to Donggang Harbor, NTD200 for one way, but you have to reserve in advance.
Tungliu Taxi:http://taxi.wacowtravel.com.tw/index.html
C. From Kaohsiung airport
You can get to Donggang harbor with several different bus lines, including Kaohsiung Bus, Kuo Kuang, PTbus, Chung Nan Bus, or also by taxi.
D. From Pingtung Airport
You can get to Donggang harbor with PTbus or also by taxi.
Donggang – Xiao Liuqiu ferry boat
There is a publicly operated ferry boat which takes 40 minutes to get you to Xiao Liuqiu or the private services "Tungliu" and "Taifu" which only take 20 minutes.
The public and private services are anchored at different ports. Usually, when you reserve a guesthouse you can ask the owner to buy a boat ticket for you as well.
Ferry Timetable:https://goo.gl/3CtLWa
Tungliu:http://www.tungliu.com.tw/
Taifu:http://www.tfship.com.tw/taifu/
Traffic on Xiao Liuqiu Island
Motorcycle are the main means of transport on the island, therefore it is convenient to reach all the different free diving spots. There are also buses available.
Bus Timetable:http://www.kbus.com.tw/news_info.asp?id=21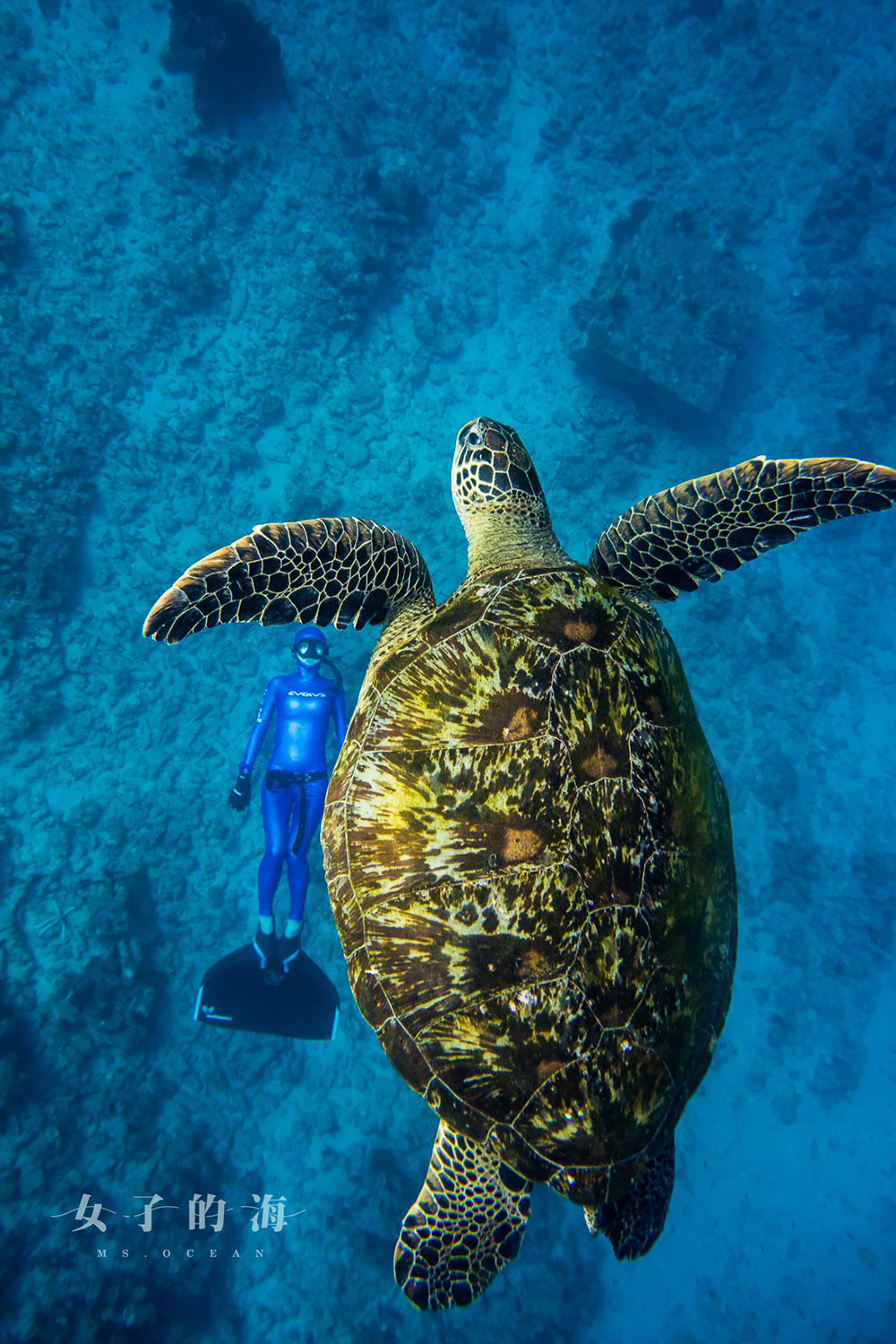 ────
Explore more:
Freediving in Orchid Island ( Lanyu)- for all level freedivers
Freediving in Orchid Island- for advanced freedivers
Follow us!